Experienced San Diego Truck Accident Attorney
Trucking accidents are typically devastating and result in victims suffering from catastrophic injuries or even death. The determination of negligence can rest with several different parties, and building a strong personal injury case following a truck accident can be legally complex and challenging, involving independent investigations and consulting with accident reconstruction specialists and medical experts. If you were injured in a truck accident, you are likely facing astronomical medical bills, lost wages, property damage, and pain and suffering. An experienced personal injury attorney can help ensure that you receive compensation to help you pay for these unexpected expenses, as well as the justice you deserve.
Classes of Commercial Trucks on the Road
When people picture truck-related accidents, they generally picture semi-trucks, also known as 18-wheelers or tractor-trailers. These consist of a tractor cab and a trailer, which are often used to transport a variety of cargo. While these kinds of trucks are certainly plentiful on the road, especially when driving long distances across the state, they are far from the only ones found in regular traffic. These are some of the other types of trucks you can come across in California:
Delivery Trucks
These are usually much smaller in size, designed to carry packages and parcels to people's homes or designated delivery centers, depending on the service. Many of these trucks are built to travel over highways across long distances, as well as move through smaller, residential neighborhoods, so they are often not as imposing or as difficult to maneuver as semis.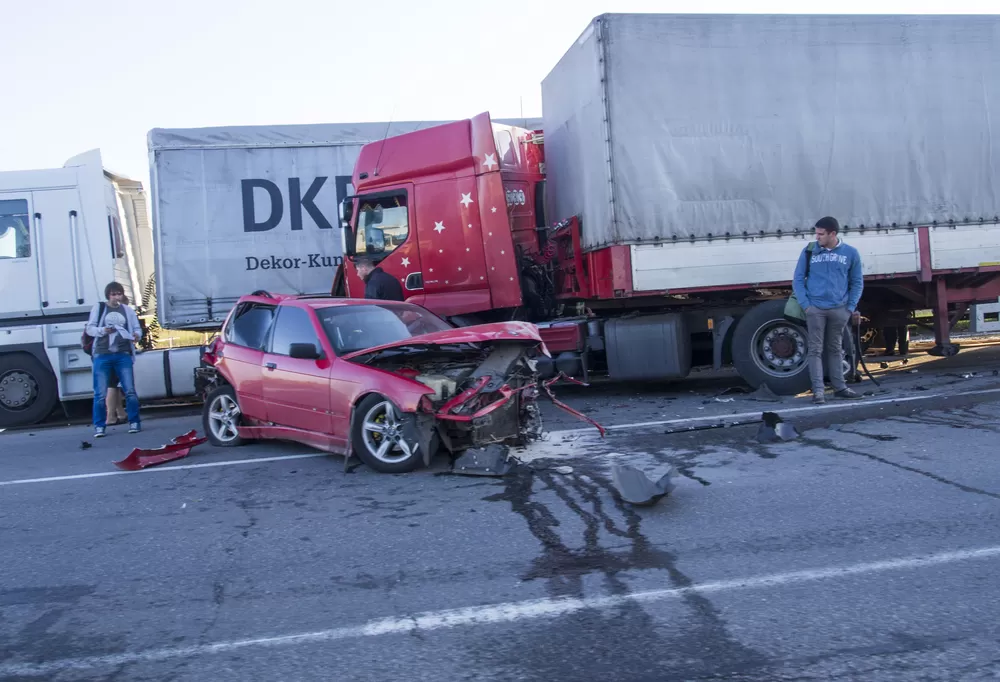 Modified Buses
While traditional buses exist in a category of their own, modified buses are actually considered trucks as well.
Other Specialized Working Trucks
These are trucks with very specific purposes, such as those used in construction, furniture transport, logging, and more. Because of the various jobs for which these are created, they can come in a number of different sizes and shapes.
Truck Accident Causes
There are a variety of factors involved in traffic collisions involving trucks. Everything from weather conditions to inappropriate driving behavior to faulty equipment could lead to an accident. Having a more thorough picture of the different causes of accidents can help determine who is legally responsible for any damages sustained. Truck accidents can be caused by any of the following reasons:
Overloaded trucks
Improperly secured cargo
Driver negligence (speeding, failure to obey traffic signs, distracted driving, driving while fatigued, unsafe turns, inadequate surveillance, driving under the influence of drugs or alcohol, reckless driving)
Lack of appropriate training for the driver
Unreasonable schedules established by the trucking company
Failure to maintain trucks appropriately according to maintenance schedules
Manufacture defects or design flaws
Defective or hazardous roadways
The Most Common Types of Truck Accidents
Depending on the causes referenced above, there are a variety of different types of accidents that are more likely to take place. Understanding some of the more common accidents and what sorts of conditions can cause them can help better prepare you for the hazards you are most likely to encounter on the road. The most common types of truck accidents include:
Head-On Collisions
These are always incredibly dangerous, as they involve a collision between the front end of a truck and the front end of another vehicle, often at full speeds. The most likely cause of head-on collisions is driver fatigue, which can lead to lane drifting. Because of the force involved, these collisions are often deadly, especially for passengers in the front of the car.
Rear-End Collisions
These occur when the front end of a truck collides with the back end of another vehicle. Unlike head-on collisions, these carry a greater risk to backseat passengers. While not as deadly as head-on collisions, they can still result in severe damage or even fatalities due to the truck's weight, which is subsequently carried forward into the vehicle ahead via momentum. These types of collisions generally occur when there are issues with visibility and road conditions, such as when severe weather is involved. Another common reason for rear-end collisions is speeding.
Rollover Accidents
Rollover accidents can be scary because of how destructive and unpredictable they can be. This term describes situations where the trailers of trucks end up rolling over. The movement of the trailer is paired with the momentum of the truck. These are often caused by loss of traction resulting from unsafe road conditions, excessive speeding, or unsafe driving maneuvers that don't properly account for the size and momentum of the truck.
Jackknife Accidents
The incidents occur where separate parts of the truck fold in at the coupling joint, causing it to move in a manner similar to a jackknife. When this occurs, the trailer of the truck can cover a wide area, putting a variety of vehicles at risk. Causes of jackknife accidents include inclement weather, distracted driving, sudden turns, and speeding.
Underride Accidents
This is a specific form of head-on collision where the other vehicle ends up physically underneath the trailer of the truck. Often in such collisions, the roofs of cars involved are torn off in the process. The Insurance Institute for Highway Safety estimates that these types of collisions account for almost half the fatalities in truck-related accidents across the country. These are usually the result of unsafe driving maneuvers as drivers fail to account for their blind spots properly.
Cargo Spills
Unlike the other accidents listed, this type of accident might not include any actual contact between the truck and the other vehicle; however, this does not make it any less dangerous. Cargo spills generally fall under two categories: liquid spills and debris. Liquid spills can impact road conditions, making the road dangerously slippery. Debris on the road can force drivers to make risky maneuvers to swerve around any obstacles present. Finally, some types of cargo can be toxic, adding more hazards to the situation. Such incidents are usually the result of improperly loaded or unsecured cargo.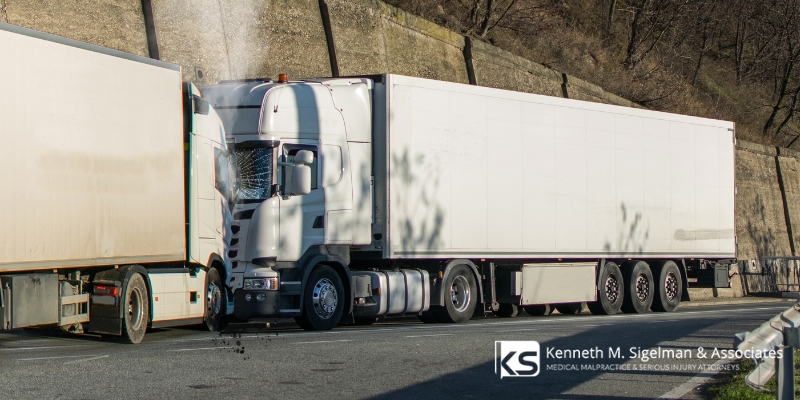 Determining Liability
Unlike accidents involving only two passenger vehicles, there are several parties that may be liable for accidents involving large commercial trucks. Depending on the facts and circumstances of the accident, a victim of a trucking accident can file a claim against the following parties:
The truck driver
The trucking company that hired the truck driver
The company that has a fleet of trucks for their business that hired the truck driver
The truck owner (which can be different from the above parties)
Any third-party responsible for improper loading or securement of cargo
The shipping company requesting the cargo
The manufacturing company of any truck part or component determined to have design flaws or defects that either caused or contributed to the accident
Are Truck Accident Attorneys Worth It?
Being involved in a truck accident can be a traumatic ordeal, and it's natural to want to put the situation behind you as quickly as possible. Frequently in such a situation, people ask themselves, "Do I need a lawyer after a truck accident in California?" especially if they've never sought legal counsel before. Unfortunately, failing to take action and file a claim can have long-term negative impacts on your life. Injuries sustained in the accident often aren't discovered until a significant amount of time has passed, hampering your chances of filing a successful claim. Additionally, filing a claim involves dealing with insurance companies that do not always have your best interests at heart, making it difficult to ensure you're being treated fairly and receiving the compensation you deserve.
San Diego truck accident attorneys play a variety of roles throughout the claims process. This includes helping to compile and preserve evidence from the scene, working with third-party experts, determining the cause of the accident and which party is liable for the damages caused, calculating the total damages, and advocating for you in court to ensure due process is followed every step of the way. Regardless of your personal experience with the legal system, your attorney can answer every question or concern you have, prevent you from committing any technical errors, and prepare you for what to expect in terms of a resolution to your case.
How Do I Choose the Right San Diego Truck Accident Lawyer?
Working with an experienced San Diego truck accident attorney can help ensure that you receive the appropriate amount of compensation, allowing you to focus solely on recovering from the incident and getting your life back on track. However, you must select the right attorney for the job. Making such a decision can be very intimidating, considering the potential consequences of making the wrong choice. Here are two key steps you can follow when seeking a San Diego trucking injury lawyer to handle your case:
Create a List of Candidates
When starting your search, it can be helpful to apply certain criteria to ensure you are only seeking trustworthy individuals who are capable of the task at hand. One thing to look for is relevant experience in the area, meaning how familiar the attorney is with trucking accidents. Because of the unique details involved in handling such a claim, including understanding the types of vehicles, causes of accidents, common damages, insurance companies, and liability issues, your chosen lawyer must have extensive experience with trucking cases. You will likely also want an attorney who is readily available to answer any questions that might come up, as well as one with a strong reputation and a clean record.
Prepare a List of Questions for Your Initial Consultation
When reaching out to an attorney, it helps to be prepared so you can make sure you gather all the information you'll need to make your decision. Some examples of questions that can help you make that choice include questions about the results of previous truck accident cases the attorney has handled, whether they think you have a valid case, what sort of responsiveness you can expect from the legal team, what kind of timeframe you should expect, and what sorts of expenses and fees will be involved.
What Damages Can You Claim After a Trucking Accident?
In the aftermath of a trucking accident, you are likely to face a lengthy recovery. That's why it's necessary to accurately assess all injuries and losses to ensure you are given the compensation you are owed. Outside of emergency treatments or procedures performed immediately after the incident, there are other ways in which you can be impacted, such as long-term rehabilitation or permanent disabilities. In some cases, the consequences may not be immediately apparent or visible, such as the development of some form of psychological trauma like post-traumatic stress disorder, but that doesn't make them any less important or worthy of addressing. Some of the types of compensation you may be eligible for include:
Loss of income
Loss of earning capacity
Medical expenses
Physical therapy expenses
Mental anguish
Pain and suffering
Vehicle repair
Property loss
How Are Pain and Suffering Valued?
For compensation to be awarded in court, you must quantify your damages. This is relatively straightforward concerning medical bills and vehicle repair costs; however, when it comes to future losses, such as reduced earning capacity, or fewer concrete concepts, such as pain and suffering, it can be very difficult to summarize your losses with a number. There are generally two methods applied when it comes to determining the proper valuation for pain and suffering.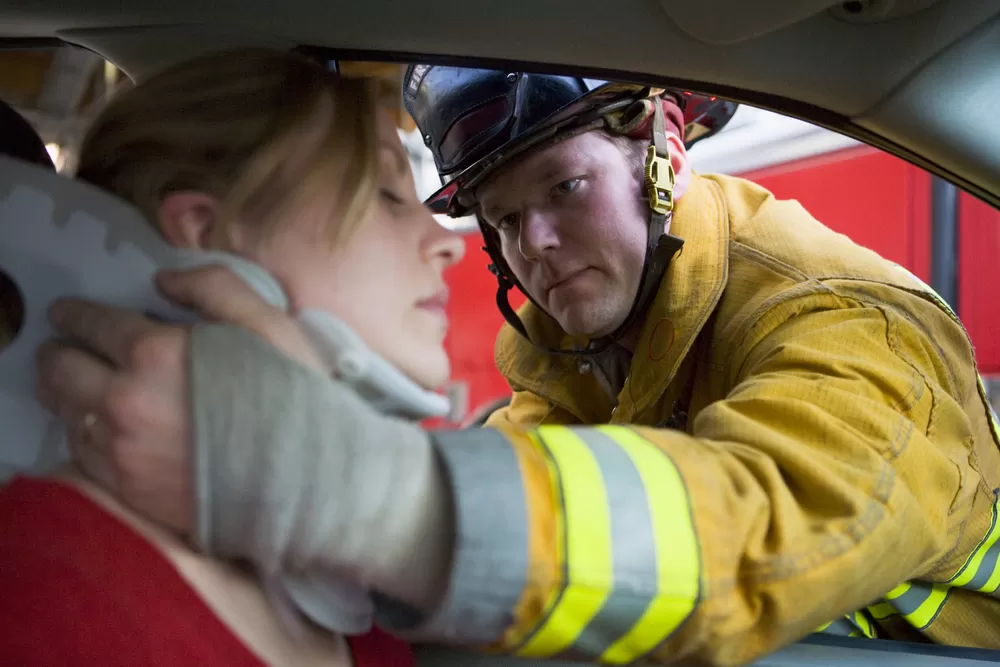 The first method is known as the multiplier method. This method is based on the more quantifiable damages, such as losses of income and medical expenses. These are then multiplied by another figure to obtain an amount that reasonably reflects the cost of pain and suffering. Said figure generally varies based on the severity of any injuries sustained.
The second method is referred to as a per diem method. With this method, you would be asked to state the number of days during which you experienced a significant amount of pain resulting from your injuries. A flat rate is assigned to the incident, and that rate is then multiplied by the total number of days to determine a dollar value for the pain and suffering you experienced.
Regardless of the method utilized, the key to filing for any damages, including pain and suffering, is providing adequate evidence to support your claim. In this instance, that would include any documentation that shows the full extent of the injury. However, there are other ways to help strengthen your case as well. Journals documenting your experience, witness testimony from family, friends, and caregivers, and records that show you've received treatment from a mental health professional can all help reinforce the fact that your pain and suffering are legitimate and worthy of compensation.
How Do I Settle an Accident Claim Without a Lawyer?
If you decide you would like to move forward with your case without the legal guidance of a San Diego truck accidents attorney, there are a few things you should be aware of ahead of time. First of all, you'll want to make sure you have a clear idea of the various steps involved in the process, starting with the collection of evidence. This means photographs from the scene, documentation of any property damages, copies of the police report, and records of any medical treatment you received.
Next, you'll want to make sure you're aware of the statute of limitations to ensure you don't miss your deadline. In the state of California, you have two years from the date of the accident to file for damages. Once you know how much time you have, you can focus on building your case. A big part of this is calculating what damages you will include in your claim. Anything you decide to consider as damages must be supported by strong evidence.
When you have finished assessing all damages and gathering your evidence, you can submit your settlement demand letter to the person or persons liable for the accident. This is the beginning of the negotiation process. The insurance adjuster will consider your demands and make you an offer, which you can accept or address with a counter-offer. It's important to manage your expectations during such proceedings, as unrealistic goals could cause you to walk away with nothing at all. Failing to reach a settlement means the case will move on to be reviewed by the court, and if they decide to find in favor of the defendant, you won't be awarded any compensation.
Attempting to settle a case without an attorney is certainly possible. However, some situations are far more difficult to handle on your own than others, for instance, cases where the damages are extensive, meaning that the defendant is much more likely to put up a fight and resist giving you compensation. Another potential obstacle is when the liability is unclear. The more difficult it is to prove that the party you've named is responsible, the less likely you are to receive any sort of settlement or compensation. In both of these cases, you could easily end up spending far more than you would have if you'd opted to work with a personal injury lawyer.
Contact an Experienced Personal Injury Attorney
If you suffered injuries in a trucking accident, you have the right to receive compensation for your losses suffered as a direct result of someone else's negligence. Ken Sigelman, J.D., M.D., is a doctor who is licensed to practice law in California and Florida, and before the U.S. Supreme Court. For more than 20 years, Ken has had an exceptional record of verdicts, settlements and arbitration awards. If you suffered injuries related to your trucking accident, contact our experienced personal injury attorneys at 866-971-8956 or online today for a free consultation.
Frequently Asked Questions about Truck Accidents in San Diego, CA
Truck accidents are some of the most damaging motor vehicle accidents that occur in the United States. If you or a loved one recently experienced a truck accident of any kind, it is natural to have many questions about your legal options and what to expect if you file a civil claim against the party responsible for the accident. The attorneys at Kenneth M. Sigelman & Associates provide compassionate and comprehensive legal counsel to the victims of truck accidents in the San Diego, CA area.
Review the following frequently asked questions and their answers to learn more about what you can expect after a truck accident in California.
Sigelman & Associates: Your Car Accident Lawyers
If you are ready to begin taking steps toward your recovery from an auto accident or from the wrongful death of a loved one, seek the help of a qualified car accident lawyer today. Kenneth M. Sigelman & Associates will tenaciously fight to earn a fair and just outcome in your personal injury or wrongful death case. Though victims of car accidents can have so much taken away from them, our experienced and caring attorneys can help you take the actions necessary to begin recovering to the fullest extent. Contact our team today.
SCHEDULE FOR


Free Consultation
Law is a complicated matter. It can cause you a big problem. Let Us help you!