Medical professionals who are responsible for prenatal care and childbirth procedures are responsible for the health and safety of the mothers and children in their care. Unfortunately, some medical professionals make negligent errors during these treatment phases that result in injury to a mother and/or her child. Some birth injuries can lead to lifelong medical ailments or disabilities, while others are fatal. When birth injuries occur, it's vital for the families of those affected to know their rights and legal options.
A San Diego, CA medical malpractice attorney can help you determine whether a recent birth injury such as Hypoxic Ischemic Encephalopathy (HIE) occurred due to the negligence of your treatment team. If so, you and your family may be entitled to compensation for your damages under California state law, and our legal team can help you navigate the process of recovery.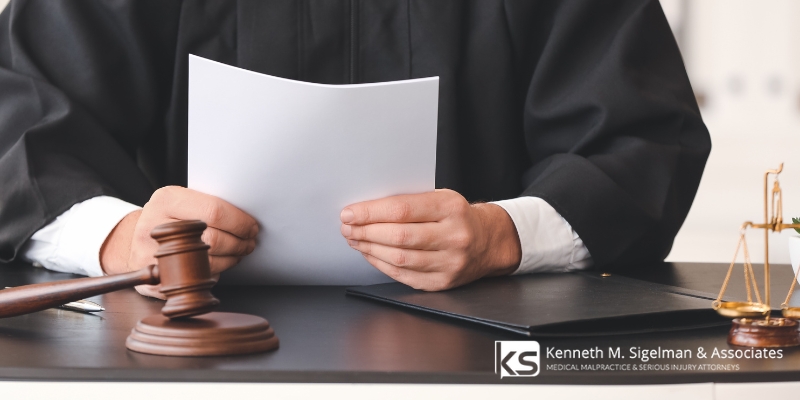 Why Choose Kenneth M. Sigelman & Associates?
When you need a San Diego, CA birth injury lawyer for a case involving a complex and damaging condition like HIE, it's vital to find one with the specific experience necessary for addressing a case like this. Attorney Kenneth Sigelman has professional experience as both a medical doctor and an attorney. His deep understanding of the medical field and the accepted practices within it provide him with a unique perspective few other San Diego medical malpractice attorneys can match.
When you work with Kenneth M. Sigelman & Associates in your birth injury lawsuit, you can rest assured you are with the best team. You'll have nearly 40 years of medical malpractice experience behind you and the full range of our firm's resources, experience, and professional contacts that can go to work in your case.
What is Hypoxic Ischemic Encephalopathy (HIE)?
Oxygen deprivation during childbirth is extremely dangerous for the infant. Even a few seconds of oxygen loss can result in serious complications, including HIE. In the simplest terms, HIE is brain damage caused by oxygen loss in the brain of an infant. This condition requires immediate medical intervention and is very common in premature childbirth procedures. HIE entails hypoxia, or damage to the brain and organ tissue, and ischemia, or poor blood flow to the vital organs. The term "encephalopathy" indicates that these symptoms occur within the brain. These compounded medical issues form HIE.
HIE is the leading cause of infant deaths from asphyxiation in the United States and is one of the most common causes of permanent disabilities in newborn babies. Physicians must be able to identify the presence of any HIE symptoms quickly and accurately, which typically include:
Amniotic fluid stained with meconium.
High acid levels in the blood.
Slow infant heart rate.
Poor infant muscle tone.
Impaired breathing or inability to breathe.
Bluish or pale skin.
The attending physician who notices these symptoms may perform additional screenings such as a CT scan, MRI examination, ultrasound, or echocardiography procedure. Other screenings, like electrocardiograms and electroencephalogram imaging, may also be necessary to confirm a diagnosis. The attending physician should be able to discern mild, moderate, or severe HIE symptoms to determine the best course of action.
If a physician identifies mild HIE quickly enough and addresses it correctly, it's possible that the child in treatment could live a healthy and full life without any complications from HIE. However, unnecessary delays in treatment of HIE or negligence could lead to a host of long-term medical complications, many of which may shorten the child's life and cause painful medical ailments. Infants with moderate or severe HIE may survive with developmental delays, motor skill delays, epilepsy, slowed neurodevelopment, and cognitive impairment.
Common Causes of HIE That Can Indicate Medical Negligence
Physicians providing prenatal care and childbirth procedure care must know the medical indicators and risk factors for HIE, which can include:
The mother's cardiovascular health, including conditions like vascular disease or diabetes.
Blood circulation complications in the placenta.
Evidence of preeclampsia.
Cardiac disease.
Fetal congenital infection.
Maternal substance abuse.
Malformations in the lungs.
Severe fetal anemia.
Should the physician notice any of these markers, they must account for the possibility of HIE and act accordingly. If they fail to do so, fail to provide thorough monitoring and checkups during the course of pregnancy, or provide an inappropriate treatment that exacerbates HIE, the physician is liable for medical negligence should their actions cause HIE and related injuries.
Potential Recovery from an HIE Lawsuit
If you and your San Diego, CA medical malpractice lawyer can prove your doctor was negligent in your treatment and that their negligence directly caused your child to develop HIE, talk with our team.  You can potentially recover several types of damages from a lawsuit. Medical malpractice lawsuits allow injured patients to recover their additional medical expenses, lost income from time spent in recovery or caring for loved ones, and future medical costs incurred as the result of the negligence in question.
In the event your child experienced HIE and developed a permanent disability or long-term medical complication as a result, the defendant in your claim may be liable for the future medical costs you and your family will incur for your child's care. You may also be able to secure compensation for lost income or additional care costs if your child requires 24/7 supervision and you or your spouse can no longer work. It is also possible for medical negligence that causes HIE to result in the death of the infant. In this situation, a San Diego, CA birth injury lawyer can help the parents form a wrongful death claim against the negligent treatment provider.
Plaintiffs in successful birth injury lawsuits for HIE can recover their past and future medical expenses, lost income, extra costs they incurred due to the negligence in question, and compensation for their pain and emotional suffering. The right San Diego, CA birth injury attorney will be the ideal resource and asset for any family facing a medical negligence claim for HIE.
Contact Kenneth M. Sigelman & Associates today to arrange a free consultation about your birth injury claim with an experienced San Diego, CA medical malpractice lawyer. We will review your HIE case and help you determine whether you and your family have grounds for a medical negligence claim.
what we do
Meet Our Attorneys
Ken Sigelman J.D., M.D. and his fellow attorneys at Kenneth M. Sigelman and Associates are medical malpractice experts, and bring that knowledge to cases involving the Federal Tort Claims Act to help you get the compensation you need!
KENNETH M. SIGELMAN
LAWYER
SCHEDULE FOR


Free Consultation
Law is a complicated matter. It can cause you a big problem. Let Us help you!