Healthcare facilities and the professionals who work in them are subject to strict regulations. These rules are designed to protect the health, safety, and privacy of everyone who seeks medical care from a qualified, reputable source. When you're injured through the negligence or wrongdoing of another party, you have the right to seek damages from whoever injured you — including those you had trusted to heal you.
While carrying medical malpractice insurance is not a requirement for healthcare professionals in the state of California, anyone wrongly injured while receiving medical care is entitled to seek compensation. A qualified medical malpractice attorney can review your case and determine the correct legal strategy for moving forward with your malpractice suit. If you were injured in a hospital or another facility through no fault of your own, you may be able to sue for medical bills, in addition to lost earnings and pain and suffering.
Around 20,000 medical malpractice claims get filed in the United States every year, and about 10 percent of all deaths nationally are now linked to medical error. The attorneys Kenneth M. Sigelman & Associates are ready to help you navigate the complexities of your case and seek the maximum possible compensation.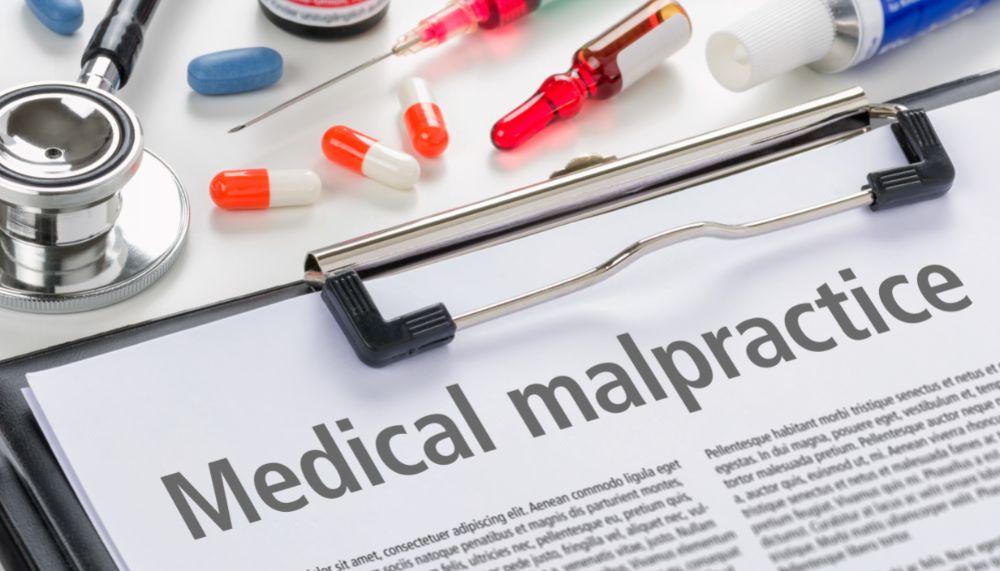 Medical Malpractice Cases Take Many Forms
Most people never expect to be harmed during medical treatment. When you seek professional care to assist with a medical concern and are instead injured in the process, it is naturally disorienting and confusing. You may not be sure whether your situation even qualifies as medical malpractice, but legally actionable malpractice can take many forms, including:
– Surgical injuries
– Improper medication
– Failure to provide proper treatment
– Diagnostic errors
– Birthing injuries (to the mother or child)
– Injuries suffered while seeing a specialist (dental injuries, chiropractic injuries, etc.)
Regardless of the specific injury, a medical malpractice case is a special type of personal injury case that can quickly become complex due to all of the different parties involved, such as patients, families, doctors, staff, insurance companies, and medication or equipment vendors. A qualified medical malpractice attorney can sort through all of the information and deal with everyone involved in the case in the aftermath of your medical injury.
Succeeding in a medical malpractice suit can also involve different types of evidence or witnesses, depending on your unique circumstances. However, it always comes down to proving that the defendant (i.e., the doctor or hospital) failed to uphold the appropriate standard of care as established by the medical community at large.
For this reason, a medical board review of the case is another unique aspect of medical malpractice law. Do not be intimidated by the fact that doctors and medical professionals will be deciding whether your motion to sue one of their colleagues will be allowed to go forward. These doctors work with the court system to uphold the high standards of their profession — not to protect bad doctors. Even if bias exists on the review board, an experienced medical malpractice attorney can prove the validity of your claim beyond any doubt.
Another variation from case to case will be in the length of time required to resolve it. A medical malpractice suit typically moves through court a bit slower than the average personal injury case due to all of its complex elements, such as soliciting analysis and testimony from medical experts. You must also consider the involvement of insurers and corporate healthcare entities, which are not always interested in moving a case forward as rapidly as possible.
In other cases, however, the defendant may be very eager to reach a discreet settlement and avoid harm to their reputation. This can be used to your advantage; a qualified medical malpractice attorney will be able to maximize the dollar value of this advantage in negotiations.
Medical malpractice suits will usually end in a settlement, with the injured party receiving a sizable payout from the defendant or their malpractice insurance plan for damages suffered. In cases of serious negligence or wrongdoing, a defendant may face additional repercussions such as the loss or suspension of medical licenses. Truly egregious cases (e.g., outright assault committed against a patient) may end up with additional charges in criminal court.
FAQs
Q: Can you sue for medical negligence after three years in California?
A: As with any other type of legal claim, a medical malpractice suit in the State of California is subject to a statute of limitations, meaning legal action must be taken within a certain period of time. Per the California Code of Civil Procedure, you have up to three years after being injured by medical malpractice to file your claim. If more than three years have passed from the date of your injury, the court will refuse to hear your case barring exceptional circumstances, such as if the case involves fraud, additional crimes, or minor victims of a certain age.
Q: What is the time limit for a medical malpractice suit in California?
A: The statute of limitations for a medical malpractice suit in California is typically three years (although it can extend longer for certain special circumstances involving medical fraud or minor children of a certain age). This means that you must file your initial claim within three years of the injury occurring.
Q: What constitutes medical malpractice in California?
A: Broadly defined, medical malpractice means that a medical caregiver failed to uphold the standards of care as defined by the medical field at large. This is why medical malpractice claims are subject to review by a board of medical professionals. There are many specific circumstances that can constitute medical malpractice, including surgical injuries, medication errors, improper diagnosis, and inappropriately early discharge.
Q: Does California have a cap on non-economic damages?
A: In California, medical malpractice suits are the only type of personal injury case for which non-economic damages are capped. This cap is set at $250,000. Non-economic damages are damages resulting from a personal injury that cannot be readily quantified as lost income or bills incurred. This includes things like emotional distress, suffering, and disruption to the victim's enjoyment of daily life.
Contact a Trusted California Medical Malpractice Law Professional Today
If you have been injured through medical negligence or incompetence, don't hesitate to seek qualified, high-powered legal help. The team at Kenneth M. Sigelman & Associates is ready to take on your case and help you recover maximum compensation for your injuries. Contact us online or call to set up a consultation.